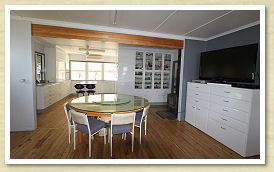 After 43 years our poor old kitchen deserved a renovation. Our daughter recommended Darryl Lindenmayer of Carinloch Cabinets and we couldn't had been more pleased. Darryl patiently took us through various options and happily incorporated our ideas into a professionally presented draft, in fact several drafts until we were quite satisfied. All the team at Carinloch Cabinets were very professional and caring in their attention to every minute detail. We are so very, very happy with our delightfully airy kitchen with its many mod cons.

Doug & Lyn Bennie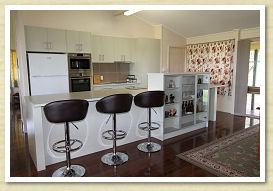 When we needed a new kitchen, someone suggested getting Carinloch Cabinets to do our kitchen for us. I am so glad we did, because Darryl and his team have created a beautiful kitchen for us. It took me months to decide what I wanted, and Darryl was very patient with me as we looked at alternative plans together, and he explained all the different materials that were available for us to use. I changed my mind that many times, and Darryl would keep changing everything until it was exactly as I liked. He made sure that our design had the optimal storage area that was available, and the materials that he has used are of the best quality. I love my new kitchen, and I know that it will last for years to come. Now I just need to learn how to cook!

Rebecca, Millmerran.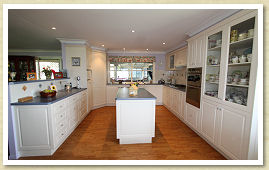 We would highly recommend the work of Darryl Lindenmayer of Carinloch Cabinets. Darryl is highly professional, courteous and his attention to detail is outstanding.

The kitchen he has built for us is exactly what we wanted and is admired by all who see it.

Jeannie Kingston
Yandilla, Queensland